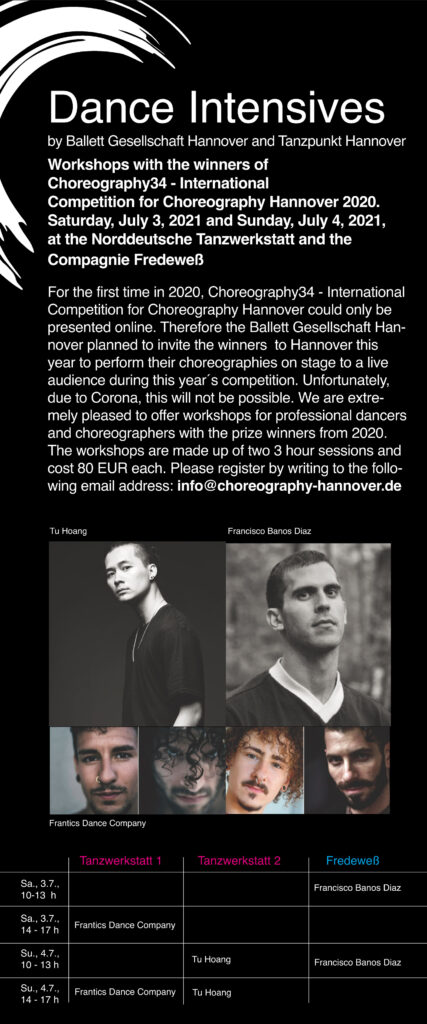 Silvia Batet, Spain
Joshua Beamish, Canada
Catarina Casqueiro, Portugal
Li Chen, China
Cristian Cucco /Alice Beatrice Carrino , Italy
Sidonie Fosse / Johann Clapson,  France
Sabrina Gargano, Italy
Giovanni Insaudo, Italy
Drew Jacoby, USA
Gil Kerer, Israel
Mei Chen / Yannis Brissot, China / France
Maja Mirek, Poland
Sofia Nappi, Italy
Maria Chiara de` Nobili / Alexander Miller, Italy/Germany
Anat Oz, Israel
Diego de la Rosa / Safet Mistele, Spain / Germany
Javier Ubell, USA
Kirsten Wicklund, Canada
Jacob Williams, USA
Nicola Wills, Australia/Belgium
For the second time, our competition cannot be held in the usual way on 02 and 03 July as planned at the Theater am Aegi.
Instead of publicly presenting the choreographies nominated for the competition on the stage of the Theater am Aegi, the Ballettgesellschaft Hannover will show the works of the choreographers in digital form. The prizes to be awarded – the three main prizes, the audience prize as well as the critics' prize and all production awards are to be awarded! From 15 June, the submitted application videos will be available on the competition website (www.choreography-hannover.de). Our cooperation partner, the Hannoversche Allgemeine Zeitung, will present the application videos at www.haz.de/choreography35 from 15-25 June. There you can vote for the audience award.
Stream of the award ceremony on 3.7.2021, 7 p.m.
This year, for the first time, we will stream the award ceremony online. We are looking forward to broadcasting the award ceremony from the Hanover Opera House together with our jury members (main jury, critics' jury, the donors of the production awards) and the nominated choreographers.
THE 2020 PRIZE WINNERS HAVE BEEN SELECTED 
1st Prize: "Trial", Tu Hoang, Vietnam
2nd Prize: "Space", Frantics Dance Company, Italy / Spain
3rd Prize: "Toothpicks", Francisco Banos Diaz, Spain
3rd Prize: "Carnegie Solo", Samuel Young-Wright, Australia
Critic`s Award: "AGR Duet", Roberto Tedesco, Italy
Audience Award: "Trial", Tu Hoang, Vietnam
NTM Production Award, Theater Mannheim: "AGR Duet", Roberto Tedesco, Italy Theater Pforzheim Production Award: "Lunatica", Roberto Doveri, Italy
Scapino Production Award: "Lunatica", Roberto Doveri, Italy
Tanja Liedtke Scholarship at the Australian Dance Theater: "Trial", Tu Hoang, Vietnam
Residence International Production Center Schloss Bröllin e.V .: "Peaux – deuxième Hymne", Zoé de Sousa, France
The following invitations were issued:
Participation in Hangartfest, Festival di Danza Contemporanea, Italy: "DOMA", Jeremy Galdeano / Vera Kvarcakova, France / Czech Republic
Participation Solo Coreografico, Exposure Price, Tanzfestival Frankfurt Edition 2020: "Carnegie Solo", Samuel Young-Wright, Australia
Gallus Theater, Frankfurt, 2021: "Space", Frantics Dance Company, Italy / Spain